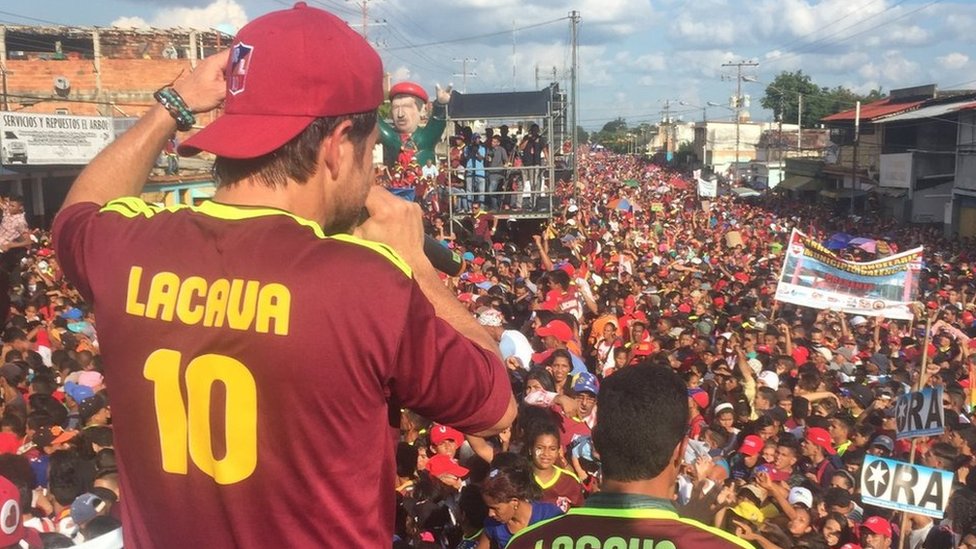 Authors: TheIndianSubcontinent News Agency
Image caption
In the city of Valencia, Venezuela's industrial heartland, Rafael Lacava works the crowds with his signature hip-hop moves.
Thousands of people have come to see the government candidate for the state of Carabobo celebrating the end of his energetic campaign for gubernatorial elections this Sunday.
"Long live Chavez," he shouts from the platform. It feels like a music concert, Lacava the rock-star.
In the distance, a giant blow-up Chavez doll bobs about in the air. The former president's legacy lives on here. Many feel he is still the country's true leader.
Channelling Chavez
After the rally, Lacava shows me a picture of the crowd.
"The only other person who's managed to fill the same space is Chavez," he says proudly.
It's as if he's trying to channel Hugo Chavez but he won't go as far as comparing himself to him.
"Strong personalities are important in politics," he says. "Charismatic guys are important to get votes because you need to be connected with people. In Latin America the politics are run by people who can connect with people."
Image caption
For Lila Gonzalez, one of the thousands of supporters at the rally, he offers a different path.
"He has an interesting way of reinterpreting Chavez, of leading the revolution," she says. "I think that if he is elected governor he will give an example to the entire Venezuelan people that we can move forward."
But even so, Mr Lacava is an unusual poster-boy for the government. Brought up in a rich family, he admits he's lived a privileged life, spending stints in the US and Italy.
When I ask him what his family makes of him being a "chavista" he says it's "complicated", adding only that they respect his political decisions.
Despite his love of the US, he has harsh words about the way Venezuela's been treated of late.
---
Read:
---
President Donald Trump has ramped up sanctions on the administration since it created a Constituent Assembly in July that has been criticised as undemocratic.
"Our country has been blocked totally in an economic way, in a political way by Western countries that run the business - the US, Europe," he tells me as he comes off the stage. "We cannot pay, we cannot get paid, we cannot bring in medicines, we cannot bring in food."
Media playback is unsupported on your device
Media caption
Thousands of Venezuelans are searching for a new life in Colombia
While Venezuela's crisis continues, the country feels very different to just a few months ago at the peak of the protests that killed more than 100 people.
There are no more road blockades, or "guarimbas" as they are known here.
The opposition has instead decided that the best way to put pressure on the government is through voting.
Venezuelans will choose 23 governors across the country. Currently, the opposition has just three governorships but they are expected to win many more.
Fighting to eat
An hour north of Valencia is Puerto Cabello, Venezuela's biggest port.
El Palito is a poor neighbourhood overlooking the country's most important oil refinery.
Media playback is unsupported on your device
Media caption
President Maduro wants to talk to President Trump
In the local shop, the shelves are bare. But at the counter there are pots of oil and butter, and little bags of coffee.
The shopkeeper sells these small portions to make it more affordable for people. But even this is out of reach of many as prices keep rising.
The International Monetary Fund expects Venezuela's annual inflation rate to jump to more than 2,300% in 2018.
A woman comes into the shop complaining. Lilia Beatriz Martinez is 60 years old.
She's not had clean drinking water for more than a month and government-subsidised food isn't being delivered either. She can only afford to eat one meal a day.
---
---
"The president [Nicolas Maduro] says 'the US this, the US that'. For God's sake, stop paying attention to the United States and come and see what is happening to us Venezuelans," she says. "If you've received sanctions it's because you're doing something wrong."
Lilia Beatriz says she won't be voting on Sunday because there's little point. Nothing will change.
Image caption
The government has been criticised for the way it's handled these elections. It decided on the date at short notice and has also been accused of confusing voters with an unclear ballot sheet.
"The idea is to discourage people going out to participate," says Margarita Lopez Maya, a professor at the Central University of Venezuela. "They do all these things because they know they cannot win, then they do all these kinds of tricks and violations of the law to divide the opposition and confuse the participation of the people."
Expectations of success
Nonetheless, there's a renewed push by the opposition to participate.
At a rally for the governor of Miranda, a state that's expected to be won by the opposition, there was a great deal of hope among the audience.
"It will be difficult," says supporter Lismar Orihuen. "We in the opposition play with honesty. But the government doesn't play a fair game. Venezuela will pull ahead."
Mixed up with the enthusiasm though, there's definitely some fear - fear that the government could change the rules of the game once again - and uncertainty about what that could mean for the people in Venezuela.
Tagged under
Latest Brazil News http://tinyurl.com/hg674d4
,
people
,
government
,
opposition
,
cannot
,
venezuelas
,
lacava
,
because
,
country
,
sunday
,
elections
,