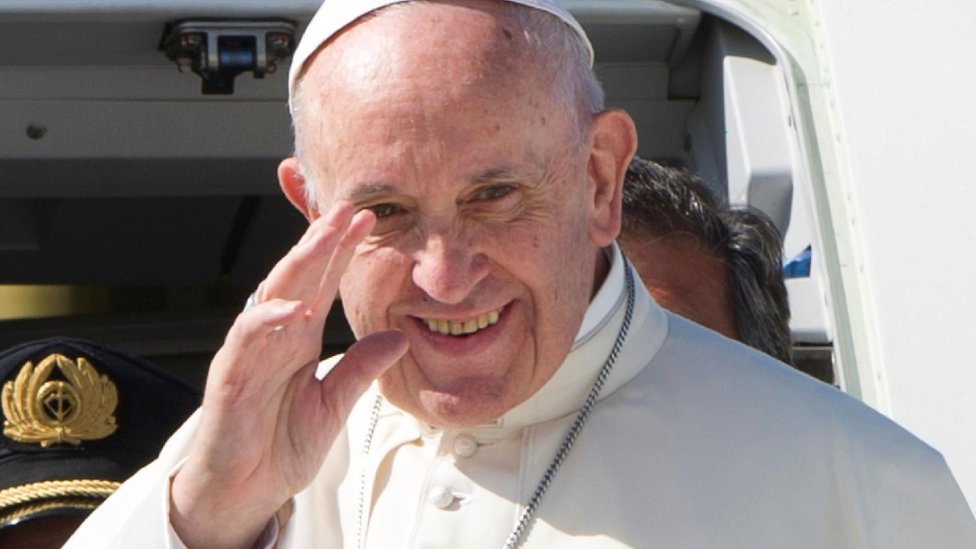 Authors: TheIndianSubcontinent News Agency
Image copyright
AFP/Getty
Image caption
The slogan of the Pope's visit to Colombia is: "Let's take the first step."
It is a five-day trip that will focus on reconciliation - an obvious theme given last year's peace deal that ended half a century of conflict between the government and the leftist Revolutionary Armed Forces of Colombia (Farc).
"Taking the first step means recognising the suffering of others, forgiving those who've hurt us," says Monsenor Fabio Suescun Mutis, the head of the Pope's visit to Colombia.
"It's about finding ourselves again as Colombians, understanding the pain of those who have suffered, healing the heart, discovering the country that hides behind mountains and building a country in peace."
Thirty-year wait
It is a long-awaited trip that will take in the cities of Bogotá, Villavicencio, Cartagena and Medellín.
Media playback is unsupported on your device
Media caption
Mr Santos called the visit "very important"
The last papal visit to Colombia was in 1986 and in the intervening years, with no peace deal in sight, a trip to Colombia was not on the cards.
"I personally think it's a major oversight on the part of the Vatican that it's been three decades since the last papal visit," says Andrew Chesnut, Professor of Religious Studies at Virginia Commonwealth University. "This is the seventh largest Catholic population on earth and it's just ending the longest civil war on earth."
According to the Pew Research Centre, 79% of Colombians consider themselves Catholic. It's the third most Catholic country in Latin America after Paraguay and Mexico.
Image copyright
AFP/Getty
Image caption
But like in many other parts of the region, people are leaving the Catholic Church for Pentecostalism - a Protestant movement. Another reason, says Prof Chesnut, why this visit is important for the Vatican.
'Pope's first miracle'
While President Juan Manuel Santos has been widely praised for brokering the Farc peace deal, the second largest guerrilla group, the National Liberation Army (ELN) has also been in talks.
On Monday, the ELN also agreed to a temporary ceasefire that would run from 1 October until the middle of January next year. President Santos called it the Pope's first miracle of his trip.
"I reckon this is a catalytic effect that the visit of Francis has already had on the Colombian peace process," says Jorge Restrepo from the Pontificia Universidad Javeriana in Bogota. "That is a major achievement and he hasn't yet arrived."
Image copyright
AFP
Image caption
On Tuesday that was followed by an announcement by the Gulf Clan, one of Colombia's most powerful drug gangs, which said it wished to submit itself to justice.
In a video addressed to Pope Francis, the Gulf Clan leader known as Otoniel said he was "just another Colombian who longs for peace" and asked for the pontiff's prayers for stability in the country.
Splits remain
But Colombia is still divided. Last year, the peace deal was narrowly rejected at first in a referendum. The government and the Farc then agreed a deal several weeks later, which was submitted to Congress rather than the popular vote.
Many hope that the Pope can help bring the country together again.
"I am sure he will influence people and bring benefits to the country," says retired teacher Ancelmo Cuellar, who drove 11 hours to Bogotá to see the Pope. "He'll unite people and help in reconciliation."
Not everyone agrees.
"I don't think he can help heal the divide, I don't think he has that power," says Samantha Castellanos, a shop assistant in Bogotá. "Politics here is awful and dirty. Promises made by the government in terms of reconciliation are not being fulfilled and never will be in my opinion."
Image copyright
Getty Images
Image caption
The Pope supported the peace deal but some Colombian bishops were lukewarm about it.
"I think because of that, Pope Francis is going to try and sidestep an overt endorsement of that peace process itself and speak to the wider need for reconciliation," says Prof Chesnut.
Venezuela 'failure'
Beyond internal conflict, there is a regional struggle on Colombia's doorstep - that of Venezuela.
"Obviously this is a visit of great regional implications," says Prof Chesnut. "The great elephant in the room is neighbouring Venezuela where he has really spearheaded efforts to mediate a political settlement there and of course there's been no traction whatsoever," says Chesnut.
"So far Venezuela is his great failure in terms of being the peacemaker."
However the Pope will meet Venezuelan bishops on Thursday after he lands, the Vatican said.
Image copyright
AFP/Getty
Image caption
The Argentine Pope is on home turf in Latin America. He knows the region well.
"He will be much more willing to speak freely here because he will be speaking Spanish," says Prof Restrepo, who thinks the Pope may refer to Mr Trump and US policy during his trip.
"The Pope has a very wide view of justice," he says. "It will be a message to humanity."